Everywhere I look, it's Jesus Jesus Jesus
What is going on here? Why all these Jesus sightings lately?
Last week in Romania, Valeriu Junie, 66, claimed that the images of
Jesus, flanked by apostles Peter and Paul, have
appeared on his wooden wardrobe
. These images are not new, according to Mr. Junie, as he first noticed them over a year ago:
"I turned on the light and saw the image of Jesus in the middle and those of St Peter and St Paul on the sides. I didn't say a word to anyone for a few weeks but then the images started to become clearer everyday. I decided to call the priests and since then lots of people come to my house to see the miracle."
The walnut wardrobe is about 50 years old, and doesn't show any signs of tampering. The local priest, Vasile Nuhaiu said: "It is a miracle when Saints reveal themselves to us mortals and I crossed myself and started to pray. I told the two old people they should fast and pray to those holy images."
Where there's a yin, there must be a yang...where there's good, there's evil. Maybe Valeriu should check to make sure the image of Satan didn't burn itself into the wood of his underwear and sock drawer.
In the last couple years, there has been an explosion of Jesus and other religious sightings reported all over the world. Are these true miracles? Or is there a logical explanation for all of these appearances?
Pareidolia
is when we take in vague visual stimulus and allow our brains to try to 'make sense' of what we're seeing by creating an image that we are familiar with. Ever play "What's that cloud?" when you were a kid? A cloud really just looks like a big puff of water vapor, but our minds begin to look for something recognizable in that cloud. Pareidolia is the phenomena that's utilized in psychiatric work, namely the
Rorschach ink blot
test.
But you can't ignore the impact all these Jesus sighting are having on believers. And it seems to be happening more often. Just two months ago, there was a sighting of Jesus appearing on a hawthrone tree in West Sussex, England.
Here's a quick run-down of just a few Jesus sightings:
Cleveland, Ohio:
Paula Holmes discovered the face of Jesus from her daughter's ultrasound. This proud grandmother doesn't think it's just a visual-trick. She believes it's a sign.
Either it's Jesus in there, or her granddaughter is a hermaphrodite.

Ontario, Canada:
Fred Whan was cooking fishsticks, and found the image of Jesus forever burned into one of his planks. He's kept the fishstick safe and sound, frozen since 2003.
Maybe he should check for disciples on his hush puppies.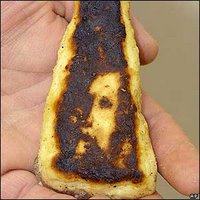 Pittsburgh, Pennsylvania:
Jeff Rigo claims this image of Jesus appeared on the wall of his shower. Jeff sold the section of the wall for $1,900 on E-Bay.
Apparently, Jesus doesn't mind mold and mildew.
And the top Jesus sighting is...Lincoln, Nebraska:
jmk3291 tried to get on the
E-bay bandwagon
after a grilled cheese sandwich with the Virgin Mary was sold for $28,000. He said finding Jesus' image seared into his grilled ham and cheese sandwich changed his life forever. He said he was a heavy drinker, and quit cold turkey...um...I mean ham...after his discovery.
I think I've found my ticket to saving for retirement...here's my effort to create Jesus toast!